Penis size has been the subject of interest for both men and women for quite a long time. This is similar to how they got obsessed with physical beauty instead of the beauty of the heart and soul. Human beings have always been interested in the nuances of sex.
5 Myths About Penis Enlargement Busted And Truth Revealed! 
The interest in sex includes having a sexually appealing body, with bulging biceps in male and bursting breasts in the female. These have been considered significant in having a better sexual life. Similar to this is the interest of men in having a thick and long penis with the desire to give the pleasure to the female species in bed.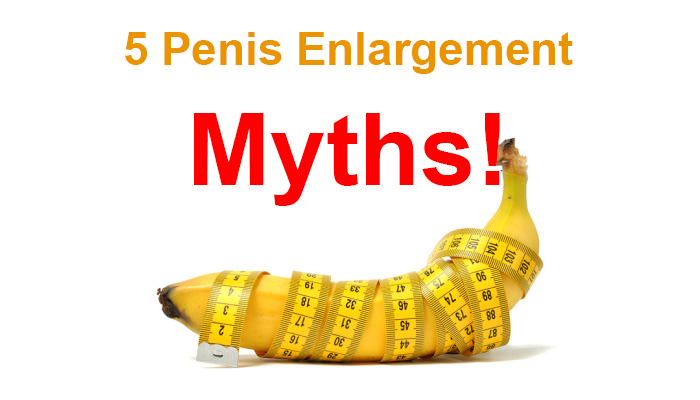 The natural course of copulation has been changed in a lot of ways due to the advancements in modern science. It includes the use of advanced cosmetic surgeries to make one more beautiful and contraceptive pills to have a better sex life in the 1960s. Cosmetic surgeries such as breast enlargement surgeries, surgeries related to the genitals and liposuction are becoming more popular in recent days. Earlier it was only women who were interested in these surgeries. Now men have also warmed up to these methods.
Today a lot of men are undergoing penis enlargement procedures and other techniques that can increase the strength and girth of their penis. While penis enlargement is a good thing, various myths are surrounding the processes. Here in this article, we bust the myths one by one.
Myth 1: Penis lengthening with weights is a great idea
It is popularly believed that penis lengthening with the help of weight can help you. But in reality, it is not so. While there has been some proof that hanging weights on the penis may help it stretch, the hard thing is that it requires an enormous amount of dedication. You need to strap weights off your penis for more than eight hours a day every day for seven long months. Even in that case, it is not scientifically proven. Medical practitioners do not advise this to men. Therefore it is a high-risk procedure that can give you multiple side effects. There is a high risk of injuring your penis in this procedure.
Myth 2: Use of creams, pills, and supplements can improve penis size
There has been the whole world of supplements, pills, and creams for penis enlargement. Most of them claim to give significant results. But in reality that is not true. These commercials say that they can increase the girth of your penis easily with the use of the cream. But they don't talk about the side effects of this product. They are not medically certified or tested. These products are a scheme to take away your hard earned money. No one knows what kind of side effects these additive products can give. It is better to stay away from these products. While it may be tempting to give to your desires, not using them will save your money and you from any adverse side effects that may happen to your penis.
Myth 3: Use of vacuum pumps can increase penis size
Vacuum pumps have a cylinder attached to the pump that sucks out air. In this case, the penis is put inside a pouch, and air is sucked out from that pouch. What happens is that the pump draws extra blood from the penis. This can make it erect and slightly more prominent. After the suction, the penis is tied with a tight ring that clamps it at the back. This prevents the blood flow from going back to the body. While this may seem to give results, it is only a temporary thing. In reality, the erection only lasts as long as the ring is put on. The critical thing to note here is that if the pump is used for more than 20 minutes, it can cause extensive tissue damage.
Myth 4: Penis enlargement pills can cause an uncontrolled erection and desire
Some companies market their sexual enhancement products to create massive profits. They say that their penis enlargement pills will give them huge erection and desire for a long time. But in reality, most of them cannot provide any results. This is because the product is not a good chemical and its effects have not been entirely understood. These erection pills work for some time, but they do not substantially increase erection. Only very few erection pills have been proven in the market. Penis enlargement pills do not give immediate results; it needs to be used for nearly 3 months to get the necessary results.  It works slower on the tissues.
Myth 5: Use of penis enlargement methods can strengthen other parts
Nothing is farther from the truth. Most supplement companies advertise that penis enlargement pills can improve the strength of the heart, spleen, kidneys, etc. but it does not happen. No medicine can have a universal effect on the body. Medications work on the targeted basis, and they can only act on the tissue they are designed for. For example, a medicine for malaria can only act on the malaria parasite. It cannot work on the parasite of influenza. So penis enlargement pills have nothing to do with all other parts of the body. It cannot give you superhuman strength. It is better to have low expectations if at all you are using a penis enlargement pill. Otherwise, you will get sorely disappointed by the results.
Final Verdict
There are many myths and misconceptions related to penis enlargement. One can always go for penile surgery which can give definite results. But there may be side effects over the more extended period. In reality, a large penis is a subjective thing, and if your partner is satisfied with the way that you are, then there is no need to go for any artificial enhancement procedures. As research says, there is no relationship between sex and penis size. It is the love that is between you and your partner that matters. Understand these myths and take a wise decision in your life.